There are Many Ways to Donate
You can donate to APECA and Natalie's House through Paypal, Amazon Smile, Fry's or by purchasing wishlist times. Your money goes towards housing necessities and upkeep such as air conditioning, heating, electricity, food, toiletries, etc.
Participate in our Promotional Events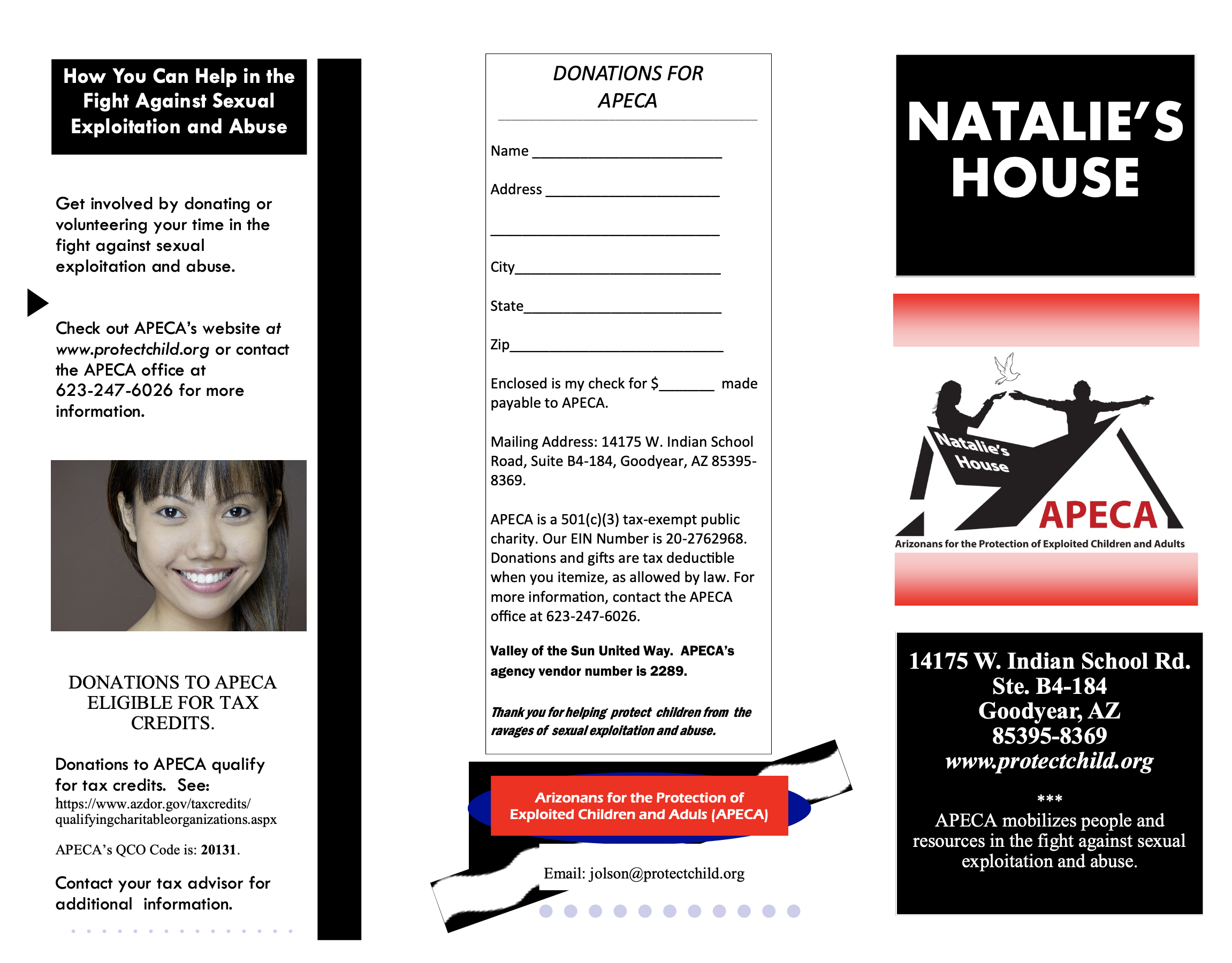 Brochure
APECA mobilizes people and resources in the fight against sexual exploitation and abuse. Download our brochure and find out more.
Donate by Shopping at your Favorite Stores
Donate to our Amazon Smile Account
People shopping at smile.amazon.com can select Arizonans for the Protection of Exploited Children and Adults as their charity.
Donate to our Frys Food Account
Did you know you can support APECA just by shopping at Fry's? It's easy when you enroll in Fry's Community Rewards.
To get started sign up with your VIP card via the instructions below, and select our organization to support. Once you're enrolled, you can earn rewards for APECA every time you shop using your VIP Card.
If/After you have a Fry's V.I.P. account, click the Enroll Now button to enroll/re-enroll in the Fry's Community Rewards Program.
Select APECA (Q1403), 14175 W. Indian School Rd, B4-184, Goodyear, AZ 85395.
Thank you to all who are participating in this program!
General Items
Brother Toner cartridges (TN 221 BK/C/M/Y)
Disposable cutlery
8 inch Paper plates / paper cups
Paper towels, individually wrapped toilet paper, napkins
Liquid hand soaps (8 oz. only please)
Powder Laundry detergent (not liquid)
Cleansers and moisturizers for girls with eczema and/or allergies
Kites
Books appropriate for girls ages 6-16 years (Grades 1st-7th)
Toys/dolls/legos/games appropriate for girls (Grades 1st-7th)
Non-Aersol Hygiene item
Shampoo / Conditioner

Body wash / Deodorant (non-aerosol and no perfumes)

Socks (new/all sizes for girls ages 6-16)
Gift Cards are a Plus
Clothing for residents.

Gas stations

Fry's Grocery and other Grocery stores

For Outings
Please Do Not Send
Perfumes, nail polish, dyes, hairsprays or aerosol products
Get in Touch. Get Involved.
Send us your contact information or give us a call and let us know how you would like to be a part of APECA.
14175 W Indian School Road, Suite B4-184, Goodyear, AZ 85395
Email: apecainfo@gmail.com