There are Many Ways to Donate
You can donate to APECA and Natalie's House through an Arizona Tax Credit, Paypal, Amazon Wish List, Fry's, selling items on NextDoor or by purchasing wishlist items. Your money goes directly towards housing necessities and upkeep such as air conditioning, heating, electricity, food, toiletries, etc.
Participate in our Promotional Events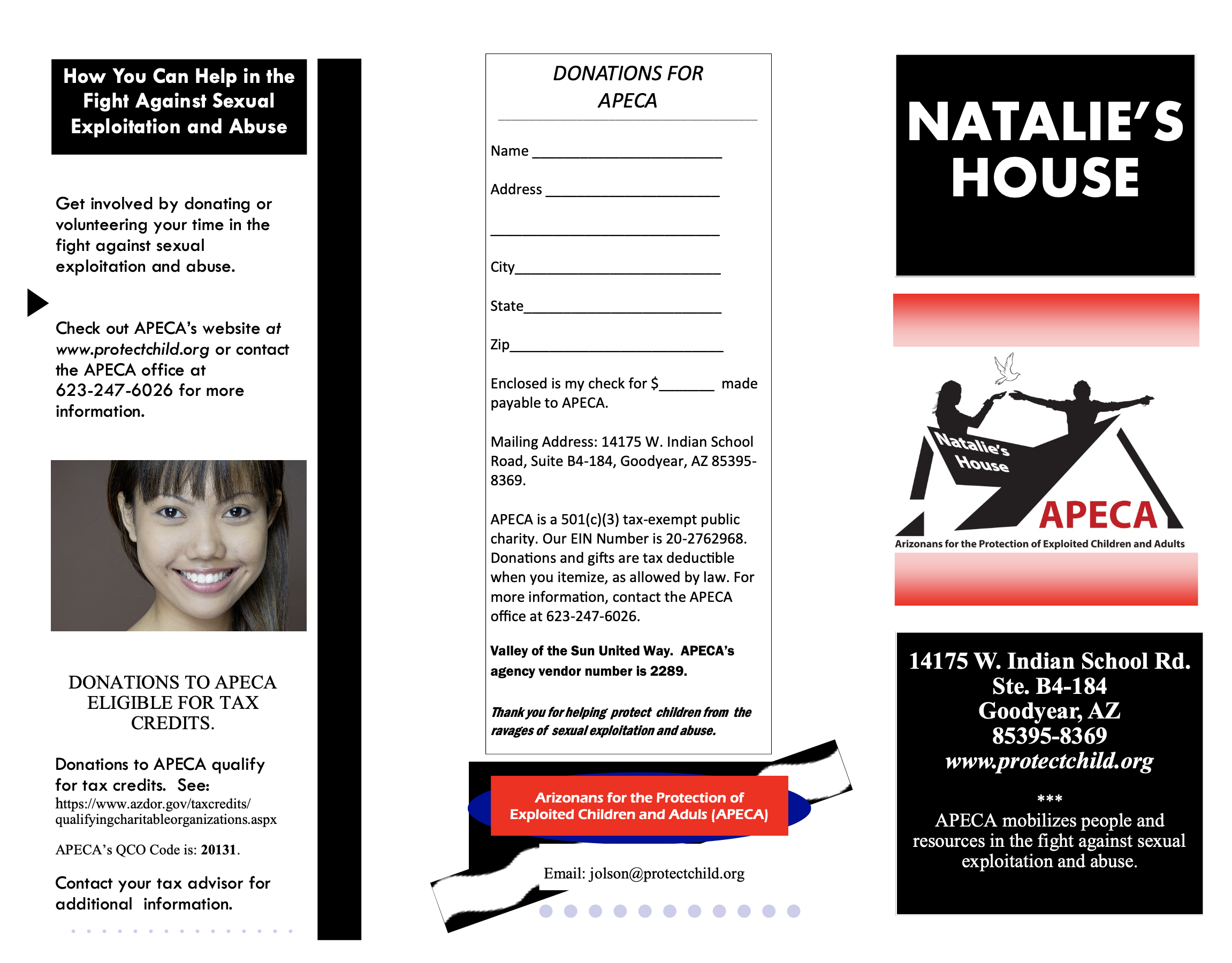 Brochure
APECA mobilizes people and resources in the fight against sexual exploitation and abuse. Download our brochure and find out more.
General Items
Brother Toner cartridges (TN 221 BK/C/M/Y)
Disposable cutlery
8 inch Paper plates / paper cups
Paper towels, individually wrapped toilet paper, napkins
Liquid hand soaps (8 oz. only please)
Powder Laundry detergent (not liquid)
Cleansers and moisturizers for girls with eczema and/or allergies
Kites
Books appropriate for girls ages 6-16 years (Grades 1st-7th)
Toys/dolls/legos/games appropriate for girls (Grades 1st-7th)
Non-Aersol Hygiene item
Shampoo / Conditioner

Body wash / Deodorant (non-aerosol and no perfumes)

Socks (new/all sizes for girls ages 6-16)
Gift Cards are a Plus
Clothing for girls.

Gas stations

Fry's Grocery and other Grocery stores

For Outings
Please Do Not Send
Perfumes, nail polish, dyes, hairsprays or aerosol products
Get in Touch. Get Involved.
Send us your contact information and let us know
how you would like to be a part of APECA.
14175 W Indian School Road, Suite B4-184, Goodyear, AZ 85395
Email: apecainfo@gmail.com